Wild places sustain and define us; we, in turn, must protect them.
As the only organization in Kentucky focused on protecting public lands, we need your help.
Discover how you can help the millions of creatures in our forests through advocacy. We help concerned citizens connect with serious environmental issues and provide actionable steps for how to help preserve our wildlands.
Citizen scientists and trained biologists work together to research the issues surrounding our public wildlands.
Through community events, ­forest­-wide field trips, and stewardship programs, we educate our community on local issues.
Collecting signatures, writing letters, sharing concerns. We are advocating for ethical public wildlands management.
In 1992 a group concerned about logging, mining, and off-road vehicles got together to protect the Daniel Boone National Forest.
Over 30 years later, we're still working to protect our native, old-growth forests from irresponsible management practices.
We advocate for the greatest protections of Kentucky's public lands. Our approach reflects the twin values of protecting and restoring ecological integrity. Reverence and respect for wild nature are our guiding principles.

Kentucky waterways provide critical habitat for various plant and animal species and offer recreational opportunities such as fishing, kayaking, and swimming.
Forests cover about 31% of the Earth's land area and play a crucial role in sequestering carbon, maintaining biodiversity, and regulating our climate.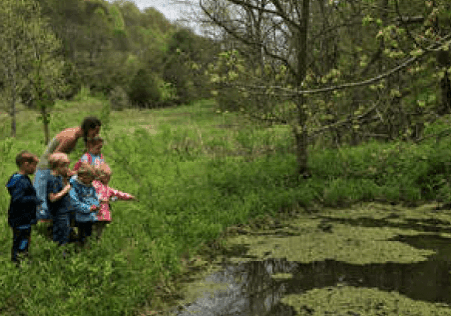 We are as intertwined with our forest as the tree roots themselves! Humans and animals alike depend on our intact ecosystems!